Complete Rehabilitation
Our rehab team provides multimodal approach of physiotherapy to children affected with any kind of physical disability. We use latest concept of physiotherapy which include NDT, SI, Strength training, Faradic stimulation, TRP, MRP and yoga. Our team include well trained developmental therapist & Occupational therapiest, speech therapist, special educator etc. We manage these children for complete rehabilitation that include physiotherapy, occupational therapy, speech therapy, bracing, walking aid, surgical intervention, special education, indoor and out door games and promote them for professional courses & training for their livelihood. We educate parents and CP person for their legal rights. we also continueing research in Cerebral Palsy. This centre is being recognized as a centre of excellence in providing comprehensive care in the field of pediatric orthopedics, deformity correction & cerebral palsy.
Our Activities
Trishla Foundation regularly organizes many activities for cerebral palsy affected children & their families with the aim to make them self reliant so that they may lead a normal life in the society. Most of the activities are being planned toward creation of social space for them, to increase awareness regarding CP in the masses; their right to existence in the society. For this purpose, we organize awareness & training program cum assessment camps, workshop cum CMEs, Conferences, CP fairs, games for special children, art and cultural exhibition, etc. We take the children to picnic spots at regular period for social exposer. We also organize indoor & outdoor events for exploring extracurricular activity & increasing confidence and sportive spirit. We celebrate world cerebral palsy day and annual function at grand level.

CP Village
At present we have facilities of CP home which has capacity of staying of nine families who can stay at Allahabad for complete rehabilitation of their child along with training in activity of daily living. This CP home is located at Salori area of Allahabad. This is well connected with therapy center by van. At present due to limited space in CP home we help parents in getting rented house in nearby colonies at very affordable prices. We also provide transport facilities for all the families staying at Allahabad. We also have attached hospital for all emergencies and routine health problems. We have started construction of CP home and rehab center as part of a CP village project, which will have facilities of staying hundreds of families along with facility of complete rehabilitation, education, training & need of all leisure activity. we are planning to complete this project by 2025 but whole work will depenfds upon funds availability.
Rehab Center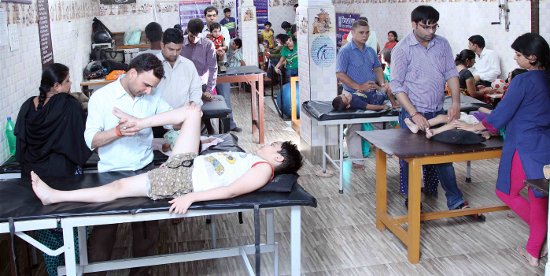 Our rehab center is managed by a team of well trained therapist and paramedical staff which include 25 therapists, 2 special educator, 3 speech therapist & 1 orthotics. The entire team works under direct supervision of Dr. Jitendra jain & Dr Varidmala Jain.  All of them are trained in therapeutic management of all musculoskeletal problems especially in paediatric disability. We provide training to young budding trainee therapist at center and also regularly organize training programmes, hands on workshop and conferences at Allahabad to update all interested therapist in latest therapeutic techniques. All our therapist also get regular update in latest therapeutic techniques by attending workshops, journal reading and hands on training. This center is fully equipped with all modern gadgets of physiotherapy. We have one rehab center for physical & occupation therapy to children with physical disability, one Early intervention Center for early intervention to small kids, One advance rehab center to tackle increasing number of children, special education and speech therapy center & orthotic workshop. More Than 200 children with cerebral palsy are getting therapy at this different center.
Activity Center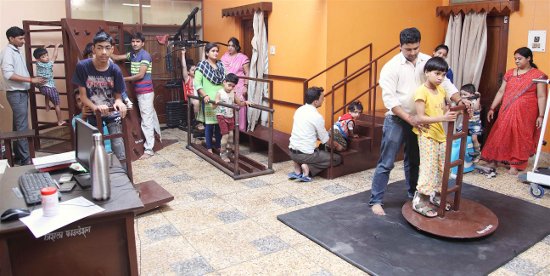 We also have an activity center where children are being trained in higher activity. We have facilities of un-weighing system, jogger, reverse cycling, ramp, slider, multi-station gym machine, and monkey bar.
Financial Resources
We are running all our social activity by contribution of donor from our society, parents & corporate.