Cerebral Palsy Therapy Treatment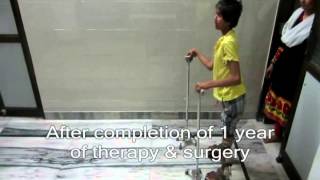 Cerebral palsy therapy includes physical cerebral palsy therapy, occupational cerebral palsy therapy, speech CP therapy & behavior therapy. it helps to minimize the disabilities which are associated with the physical disability. children affected with CP require specialized therapy program. Continuous therapies for cerebral palsy improves quality of life and functional abilities. intensive & continuous therapy activate dormant neuron of child's brain. so in long-term, it enhances the release of a better signal through the neural tract. Traditional therapy includes stretching & joint mobilization are of no or minimum use in cerebral palsy.
There are different kinds of cerebral palsy therapy
1) Physical Cerebral Palsy Therapy
Physical cerebral palsy therapy improves endurance, flexibility, the strength of muscle. This therapy helps children to learn functional activity in much better ways to keep it's their body in a balanced manner. physical therapy includes NDT, SI, Strength training, CIMT. it should be utilized in combination. It helps in physical movement required for activity of daily activity. Along with physical therapy, children should be promoted in play, extracurricular and sports activity. It boosts their self-confidence and personality. few supplementary add-on like there bands, bicycles, weights cuff, rollers, multi-station gym machines, balance balls, FES are used to enhances the role of physical therapy. physical therapy should be started at earliest as possible to get the best outcome.
2) Occupational Cerebral Palsy Therapy
An occupational therapy helps the children to learn activity of daily living in a much better way by utilizing activity oriented exercise and training of fine & small muscle of the body. With this therapy, children learn to perform daily routine activities like brushing teeth, bathing, dressing, eating, personal grooming, writing, playing, how to use a telephone, how to use a computer, grasping objects, housekeeping, interacting with family members and other similar activities. The objective of occupational therapy is to provide right atmosphere to CP Children to make it is their daily routine activities simpler and easier. This therapy is recommended for every type of CP children.
3) Speech & Language Cerebral Palsy Therapy
Most of the children with cerebral palsy always have some problem with speech, language, deglutition, chewing etc. all these problems are interrelated. In that case, the child may face difficulties in speaking properly, pronouncing words accurately or expressing themselves through it is their verbal communication. Speech and Language therapy provide therapy to make better control of jaw muscles & oro-pharyngeal muscle and also improve the vital capacity of lungs. Children tend to develop the better skill to understand or speak language using it's their oral motor skills. dribbling of saliva also improves with the therapy of oropharyngeal muscle. it should be started at the very early age to get the best outcome. verbal communication improves in the majority of children where early and intensive therapy was provided.
Close